Summer Writing Classes
Summer Writing Classes for Schoolkids and Students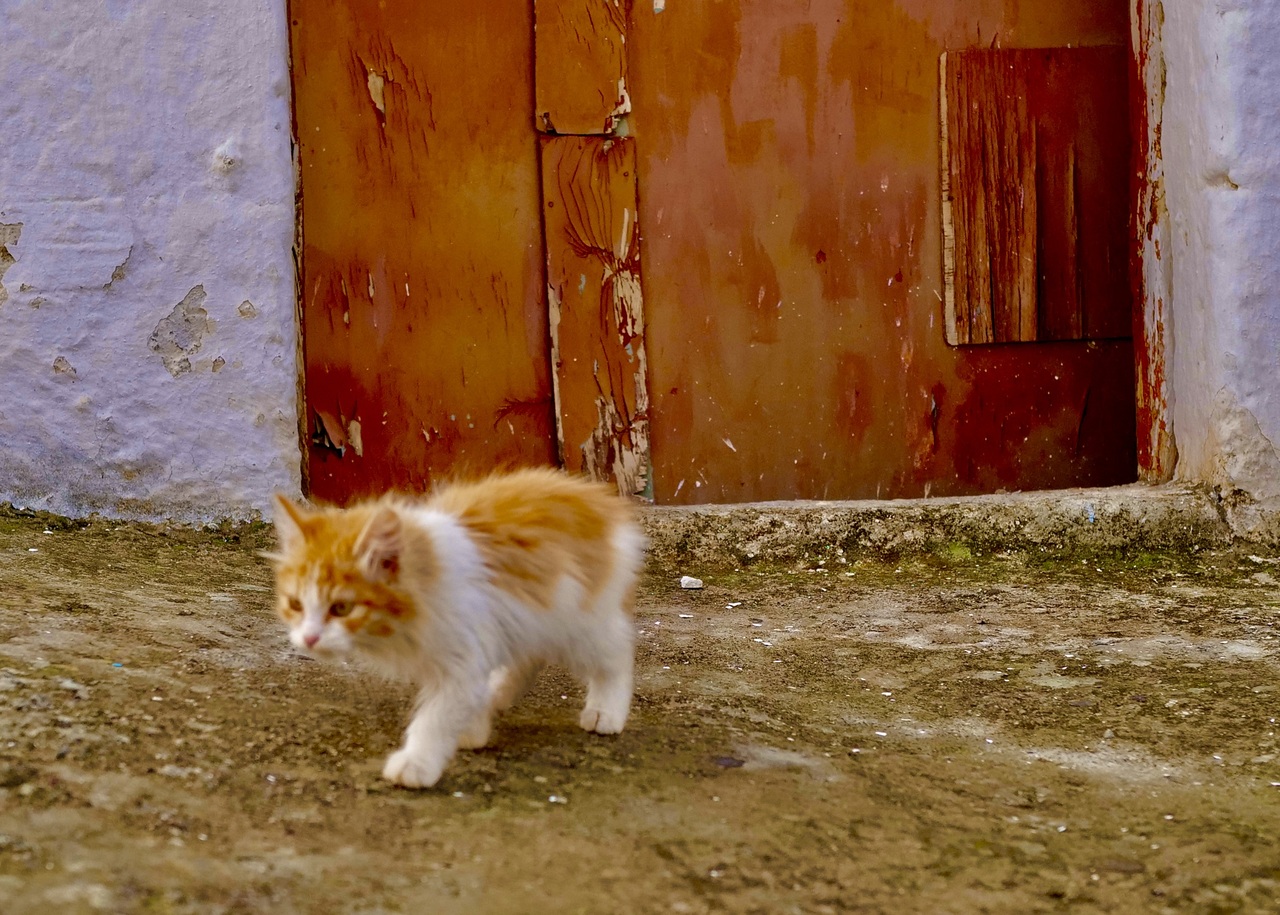 Summer Writing Classes 2023

For all classes there is an optional two week extension, please let me know if you would like this when you apply and if there are enough students, I will add the extensions. I will, as always, offer private tuition during the summer too. Please enquire and let me know preferred dates and times. Payment is due upon booking. Classes book up fast.

1. Moving Up – Grade Prep for newbies entering Grades 5 and 6: This fun course sees lots of brief writing and attention to key grammatical and literary demands for those entering their last years of elementary school. We play games, read excerpts from the best classics of children's literature and explore science and history. Mondays. July 10 to August 7. 5.30pm – 6.30pm. (6 classes $420)

2. Grades 7 to 8 can be challenging. Teachers demand more, homework is increasing and concepts can be puzzling, plus prepubescence creates its own hormonal confusion. Time management is now critical and is taught in this course plus an early and light introduction to classical literature, including the Greeks and Shakespeare. Brief writing will ensure that students feel more confident about essay writing. MLA is introduced and refined. Grammar and literary expectations for English writing are outlined and taught. Your student will enter this higher grade with greater confidence. Tuesdays July 11 to August 8. 5.30pm – 6.30pm. (6 classes $420)


3. Grades 9 to 10 - The Heat is On: Grades 9 to 10 is where students feel under considerable pressure. The easy days of their early school years are gone. Writing an essay the night before a class is a road to failure and stress. Sleep deprivation can be a challenge if time is not managed well. More thought needs to go into planning each week and balancing the challenges of meeting competing teacher demands. This class uses excerpts from books and poems set for these grades, and advanced literary terms are explained. Standardized test exercises and tips for success are used. We share time management skills. Research is now all important, as well as analytical skills whether assessing a poem or literature or writing an essay on an aspect of history or science. There are ways to write great essays without spending hours on research, while finding optimal information to boost your essay. We'll analyze excerpts from some of the prescribed texts used in these grades and explore some history, science, and oratory. Wednesdays July 12 to August 9. 5.30pm – 6.30pm (5 classes $500)

4. Perfecting essay writing: Writing a good essay, whether for a science, history, English, or any other topic can boost grades or see them plummet. Essay writing is a life-long skill that a student will use in college and in the workplace, whether writing reports or doing research. This course takes students through essay structure and how to write an interesting essay that exceeds the often dull rote standards of school instruction and ChatGPT (yes, we address that too). This course helps students master MLA – the standard expected in schools and college. You will learn how to create powerful opening and closing sentences, thesis statements, good transitions, impactful arguments, and ideal research techniques. We'll also touch on how essay writing at school differs from the demands you will face in college. This course will give you greater insight into crafting A+ essays and a greater sense of personal achievement. Thursdays. July 13 – August 10, 5.30pm – 6.30pm. (5 classes $550)

5. Standardized Test Prep: There are essential things to know and do for ISEE (and it has never been harder to get accepted into a private school if you don't have a parent or sibling who is an alum), and the other standardized tests that challenge young people, whether PSAT, SATS, ACT or AP. This class provides the tips that help you get an advantage. We will do examples of each type of test in class and find new ways to enhance vocabulary. Fridays July 14 – August 11, 5.30pm to 6.30pm (5 classes $600)

6. College Essay Preparation –writing college essays can be a nightmare. These are different to any essay the student has written before. These essays require introspection, truth-telling, great narrative ability, and excellent structure in very tight word frames 650 words for the Common App essay and then anything from 400 to 150 words of multiple essays for college applications.
A good essay for Common App and then the various essay demands from individual colleges can take many, many hours and even months. The essay may trump grades. Most students applying to an Ivy League College, as an example, are straight A students – what can make the difference is the essay. The best colleges are looking for more than just studious ability. Students should come to this course with a good idea of the colleges they would like to apply to (maximum three, it is not a good idea to think of only one). Saturdays July 15 to August 12 9am – 10am (with an optional two week extension for those students who want to finish more than one essay. Recycling essays from one school to another is a bad idea because there are differences in the prompts). $620






Adult writing coaching and consulting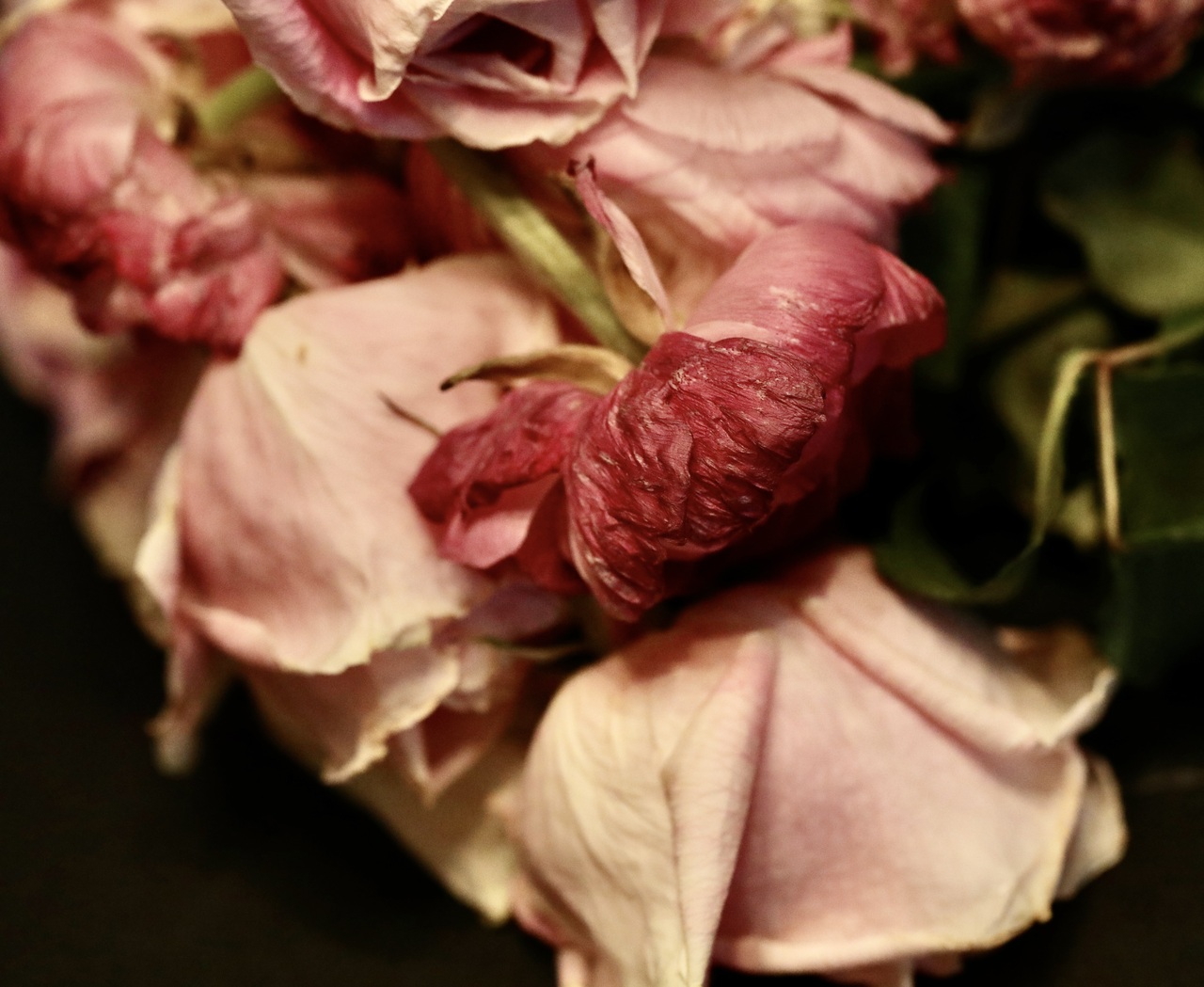 Writing a book or a management proposal is never easy, which is why many would-be authors, or even established authors, academics, and businesspeople turn to me for help.
I help you expand on your concept ad create a winning proposal.
If you are writing a book or thesis I coach you through the process doing periodic developmental editing or waiting until you have a draft you want advice on, or feel ready to have honed.
What a first draft does is help create your road map, some ideas will die, and others you had never considered before, emerge.
Once you have a draft - or even if you are struggling with the initial concept - I will assist you with how to go forward.
If you are a corporate or academic client I am happy to do the necessary research too.
If you are an author, I am happy to assist you with query letters, book proposals, or self-publishing.
I look forward to hearing from you.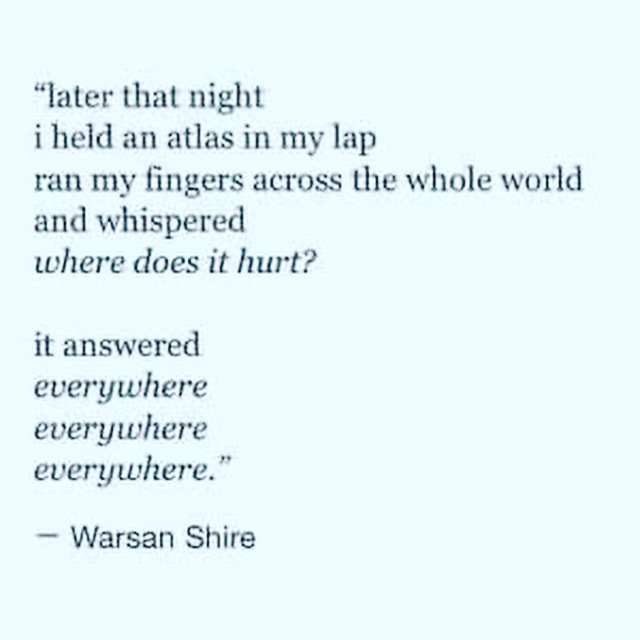 Author's seven-word story rejected. 'Too long.' - Salman Rushdie.

Learn how to write flash fiction at Wellesley Library this winter. Flash fiction calls for wit, unexpected twists, an inspired idea, and brevity. Most flash fiction is around 500 words but as Rushdie's example shows, such stories can be far shorter.
This winter, Massachusetts' Wellesley Library has two free two-hour classes on January 11 and January 18, 2023, from 10 am to noon with award-winning journalist and author, Charlene Smith. You'll learn the basics of story-telling, good editing (yeah, trimming those pearls), and have great fun writing with new friends.

Use your flash fiction for the library's short story machine and the enjoyment of friends and family. Or enter a competition, submit to a literary magazine or journal (the New Yorker carries flash fiction), or use it to flesh out ideas for a book, a speech, or a love letter. We'll give you submission ideas too.

Here's another short-short flash: He didn't know she could swim - Ann Patchett

(word count: 197)

Book Coaching and Editing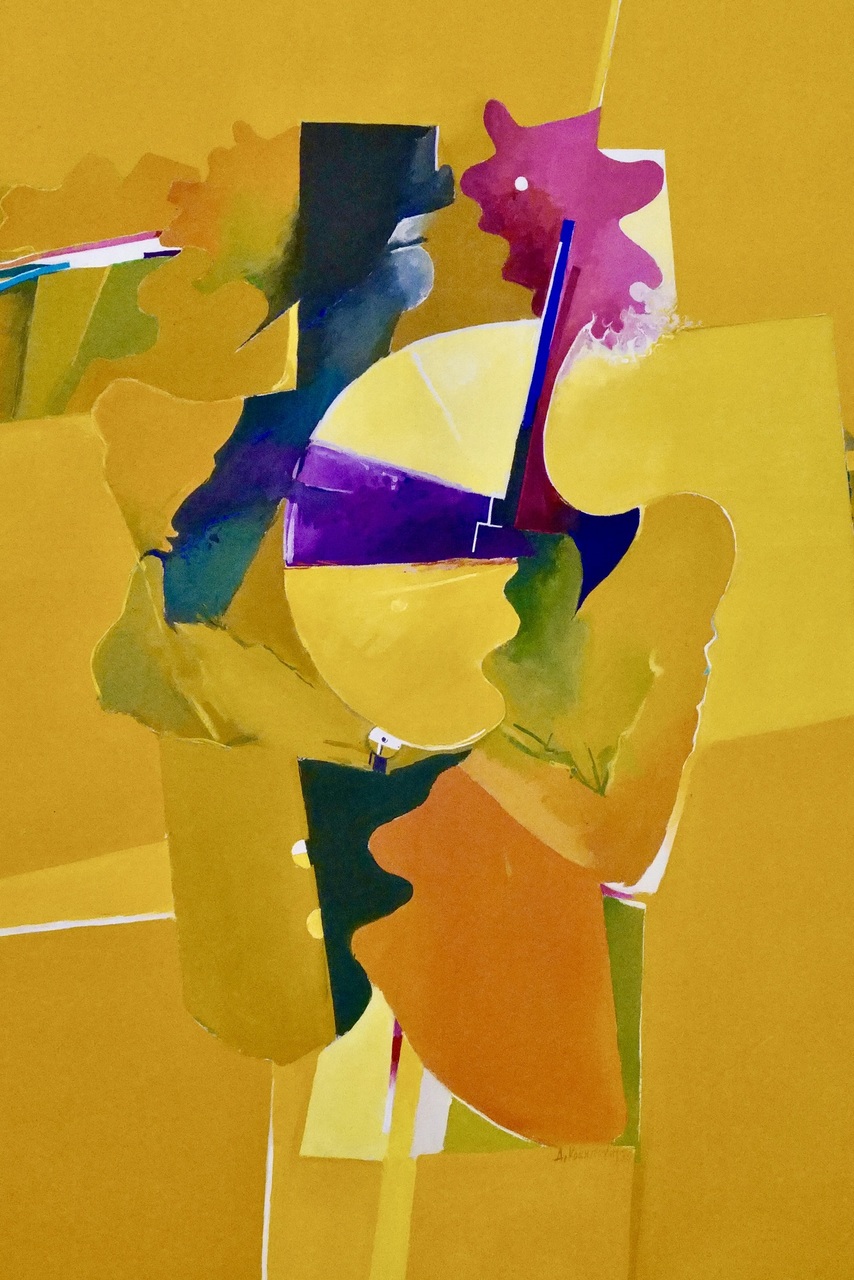 Writing a book is challenging. Many inexperienced writers start a book and in a short time write 40 or 60 pages - and then freeze: what next?
I help you to get over those hurdles, plan your book, and guide you through the process, all the while editing and helping you out of those dark places when inspiration flees.
If you have a manuscript ready for an agent or publisher, I am happy to edit the document - I am a developmental editor so may make suggestions to enhance the text and will also ensure facts are correct - and will give ideas of how to write a pitch or query letter, or how to self publish, if desired.
My writers include Ivy League deans and academics (I am Boston-based, although these days location is no longer an advantage, nor a hindrance). They include folk on four continents and in a wide range of fields whether judges, nuclear engineers, medical specialists, pastors, journalists, architects, and more. Their books have included non-fiction and fiction, ranging from memoir to historical novel; travel to crime writing; novels for second language speakers; educational or academic books; and more.
My rates are competitive and confidentiality is assured.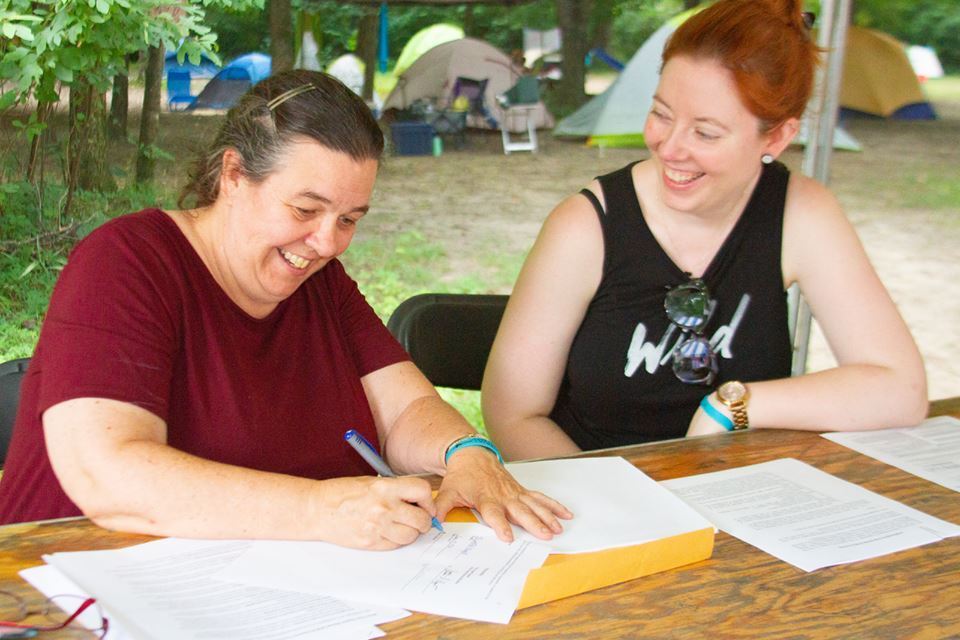 Early in 2018, Liz Magill took an online course with me to turn her thesis into a book. This is not easy because a thesis is written in academic jargon. A book for the commercial market needs to be written in an enjoyable reading style.
I came up with a working title: Five Loaves, Two Fishes, Twelve Volunteers - the book is about food kitchens and feeding programs run by churches.
By the end of the course we had three chapters ready for submission to a publisher or agent.
At no extra charge I helped Liz with a query letter and book proposal to take to a publishing conference to help her to pitch to agents and publishers.
She succeeded! This is her signing a book contact with Upper Room Books, they loved the title and are keeping it.
Her book was published in March, 2020.
--------------------------------------------------------------------------------------------------------------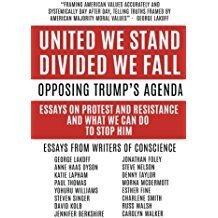 I'm the sort of immigrant Donald Trump finds acceptable, blonde, attractive, accomplished, and with a British accent.
On the last point, come to think of it, most Americans would let me in.
This is where it gets difficult; I am South African-born. I've lived under neo-Nazis. Some apartheid presidents were jailed during the Second World War for active Nazi support, and the biggest spy ring ever uncovered in the U.S. was led by a South African Nazi. My parents were racist, and my father, a bully. I was a kind child and when about eight-years-old, my siblings and I were playing in a park. I saw three black children holding the diamond links of the fence, watching us.
"Come and play with us," I said.
"Our mother said we can't," the boy closest in age to me said.
"Oh come, it will be fine," I urged, and they, tempted by the colorful merry-go-round, the swings and slides, ran into the park. There we played until we heard sirens and saw police vehicles skid to a stop outside the park. Something terrible must have happened. We stood transfixed. The police ran toward us. We were confused, we hadn't seen any baddies.
They grabbed the three black children, who screamed and cried, as they were hauled off to police vans. A black woman, a maid, came out of one of the houses and fell to her knees pleading with the police officers who ignored her.
She wailed as the police vehicles sped off.
I had done this. I brought harm to this mother and my friends. Even now I feel shame.
Children are wise, they understand injustice, and no matter what their parents say or do, they know.
I was a clever child who won academic and good fellowship awards at school, I was never promiscuous, nor used drugs or alcohol, but arguments at home intensified. I felt apartheid was unjust. At the age of sixteen, a month after I graduated high school, I was labelled a 'traitor' by my parents, and a 'kaffir boetie' (the equivalent of 'nigger lover') and banished from home. I had no money and scant education but a journalism cadet program at the largest newspaper group accepted this shy child. I became the youngest cadet reporter ever and the first woman crime reporter in South African journalism. It was 1976 and black students protested inferior education. I saw the first dead bodies of my life as children my age and younger were gunned down by police. More than 600 died and that radicalized me. Five years later I was active in the underground of the African National Congress, the outlawed liberation group that Mandela belonged to.
There were three levels of commitment – were you prepared to be arrested?
To prepare we read St. Augustine's Just War theory. I became a disciple of Gandhi and satyagraha, non-violent resistance. He counselled that we should not respond to haters in like manner – or as Michelle Obama put it, "when they go low, we go high." Gandhi also wrote in his 1928 book, Satyagraha in South Africa, "you shall not bend your knee before an oppressor." Stand tall, be dignified, never cower.
The next decision was, if I get arrested and am interrogated and tortured, will I speak, or remain silent, or give them a little but not that which is most important? Do I shame the oppressor by carrying the harm in my own body, as Gandhi suggested? The apartheid government loved torture as much as Trump.
The last personal assessment was, am I prepared to die? Nelson Mandela said in his statement from the dock:
We, of the ANC, always stood for a non-racial democracy. We shrank from any action which might drive the races further apart …Fifty years of non-violence brought the African people nothing but more and more repressive legislation, and fewer and fewer rights … Our complaint is not that we are poor by comparison with people in other countries, but that we are poor by comparison with white people in our own country. … I have cherished the ideal of a democratic and free society in which all persons will live together in harmony and with equal opportunities. It is an ideal for which I hope to live for and to see realized. But, My Lord, if it needs be, it is an ideal for which I am prepared to die.
He was influenced by "Letter to a German Friend, July 1943," in Resistance, Rebellion and Death, by Albert Camus, which was published by Alfred A. Knopf in 1963. (I have the copy Mandela used.) These were letters the French Resistance dropped over German lines. Camus ends with words we need to start with:
This country is worthy of the difficult and demanding love that is mine. And I believe she is decidedly worth fighting for since she is worthy of a higher love… Your nation … received… only the love it deserved, which was blind. A nation is not justified by such love. That will be your undoing. And you who were already conquered in your greatest victories, what will you be in the approaching defeat?
The U.S.A. is not worthy of blind love. I love it with my eyes open. I hear the fear of the white working class who have lost work, forfeited homes, status, and struggle to pay excessive interest rates on student loans. Hate is a product of fear. Always.
I am disturbed by the militarization of the police. The notion of service is being surrendered to police force, and this enables the shooting of too many black men.
I didn't want my children to live in a society that discriminated against anyone for any reason. I didn't want them to ask when they grew up, "what did you do mommy?" And to have no answer.
My road led to Nelson Mandela.
We left South Africa for a time because my American husband feared that he would be deported and I would be jailed. In 1989, I returned after the assassination of a close friend. Four months later, Archbishop Desmond Tutu asked if I would begin the first investigations into government death squads. God blessed us, because within two weeks a death squad assassin escaped the noose in Pretoria by giving us an affidavit of some of his crimes. Liberal lawyers brought a stay of execution. It was my task to prove or disprove his claims before making them public. We did not know if this was security police disinformation. It included claims of police officials torturing a man then putting him on a spit to burn to death, while they barbecued nearby. They locked the doors of minivans with students inside and firebombed them. They used waterboarding, the helicopter, electric shock torture – all devices that the U.S.A. employs and we've mostly turned our faces because it was to others. It never could happen to us. Could it?
Pastor Niemoller, interned at Auschwitz wrote:
"First they came for the Socialists, and I did not speak out—
Because I was not a Socialist.
Then they came for the Trade Unionists, and I did not speak out—
Because I was not a Trade Unionist.
Then they came for the Jews, and I did not speak out—
Because I was not a Jew.
Then they came for me—and there was no one left to speak for me."
On February 10, 1990, I visited a friend recovering from pneumonia, Cyril Ramaphosa, now deputy president of South Africa. He was reading Barbara Tuchman's, The March of Folly, and said, "every politician must read this." In it, Barbara Tuchman writes:
Folly is a child of power… The overall responsibility of power is to …keep mind and judgement open and to resist the insidious spell of wooden-headedness. If the mind is open enough to perceive that a given policy is harming rather than serving self-interest, and self-confident enough to acknowledge it, and wise enough to reverse it, that is a summit in the art of government.
On February 11, 1990, Nelson Mandela, aged 71, walked free. Cyril held the microphone for him at his first public address in Cape Town. Two days later I was the second journalist to interview him in Soweto. He had such grace. Before I began he said, "Ms. Smith, I have read your works, I want to know about you." He quoted verbatim things I'd written years before, and asked me to describe persons or events.
Nelson Mandela was always interested. He cared. If he met you once, he would remind you, when next you met, of what you discussed six months or a year before.
The world loved Nelson Mandela because he loved us, all of us. He came out of prison and told South Africa's deeply divided people to 'make friends of your enemies' – when at that time there were government death squads, the right-wing were planting bombs at taxi ranks, and internecine violence saw hundreds of people die a week.
His approach caused anger among some ANC leaders. He listened to them patiently, and then asked, "What will it cost to negotiate?" They had no answer. We had lost so much peace was the most radical action of all.
No one was invisible to him. Our Madiba would arrive at an event and first greet the cooks, the cleaners, the security detail, the waiters; the rich and famous could wait. Everyone was important to him. Everyone is important.
He went to the white-only homeland of Orania to visit Betsy Verwoerd, the widow of the architect of apartheid and the man that sought Mandela's execution. When they emerged, his hand gently on her old shoulder, she looked at him with pleasure. It flabbergasted a nation of haters.
If a woman or child was gravely harmed, he would travel across the country to comfort them. He was our president, our best friend and trusted ally, regardless of our political persuasion. We called him Tata (father).
He wasn't perfect, he made mistakes, but he would admit when he was wrong, and change course. He was as flawed as we, he simply tried harder to be better.
I knew Nelson Mandela for 23 years. In July 2013, my father died and I did not mourn.
In 2015 I wrote a 'letter' ending with these words:
"I kept thinking about my absence of feeling. A few months after your death, Mandela died and I mourned deeply. I still do. At Christmas 2013, I thought of how sad your life was, how narrow, and how blessed I am to love many, and be loved by many. Sorrow for your sad life is what I now have, and so dad, my father, the architect of the person I am today, I want to thank you. I hope you have at last found peace."
In America today, we fear. People are angry. Friendships have splintered. People whisper behind closed doors. They have panic attacks or insomnia. As apartheid became more vicious I developed a stress-related heart condition that saw me in the I.C.U. a few times a year. Since moving to the U.S.A. I have never been hospitalized. Don't give bullies power over your mind and body.
I believe Mandela might say, "You know American people are very clever, they have achieved much. Along the way, they became lost, they were so busy telling others what to do that they ignored the cries of those at home. We are not ungrateful for their meddling, because sanctions – first called for by Martin Luther King in 1961 and finally defying a presidential veto from President Ronald Reagan in 1986 – saw me walk free less than four years later. As my good friend, the Archbishop Tutu might say, 'There is a time for everything, this is America's time, to build, to heal, to mend, to speak, to heal.'"
The word courage comes from the French word, coeur, it means heart. Courage comes from the heart. It is an act of love.
Open eyes are the fuel Lady Liberty needs. Pain leads to new awakenings, a fresh appreciation of what we are and all we can be. Listen with an open mind. Courage demands we make friends of our enemies and denounce persecutors. And always, as Mandela did, make time to dance.
Freedom challenges us. Justice Jackson ruled in 1941 in West Virginia State Board of Education v. Barnette (who refused to salute the flag), "Freedom to differ is not limited to things that do not matter much. That would be a mere shadow of freedom. The test of its substance is the right to differ as to things that touch the heart of the existing order."
After receiving a Congressional Gold Medal on October 6, 1994 (14 years before being removed from the Terrorism Watchlist), President Nelson Mandela said: "At the end, goodwill prevailed. At the end, the overwhelming majority, both black and white, decided to invest in peace." This is my prayer for the land that has given hope to so many. In years to come may you look back at the courage you found, and the enhanced love you have for our United States of America.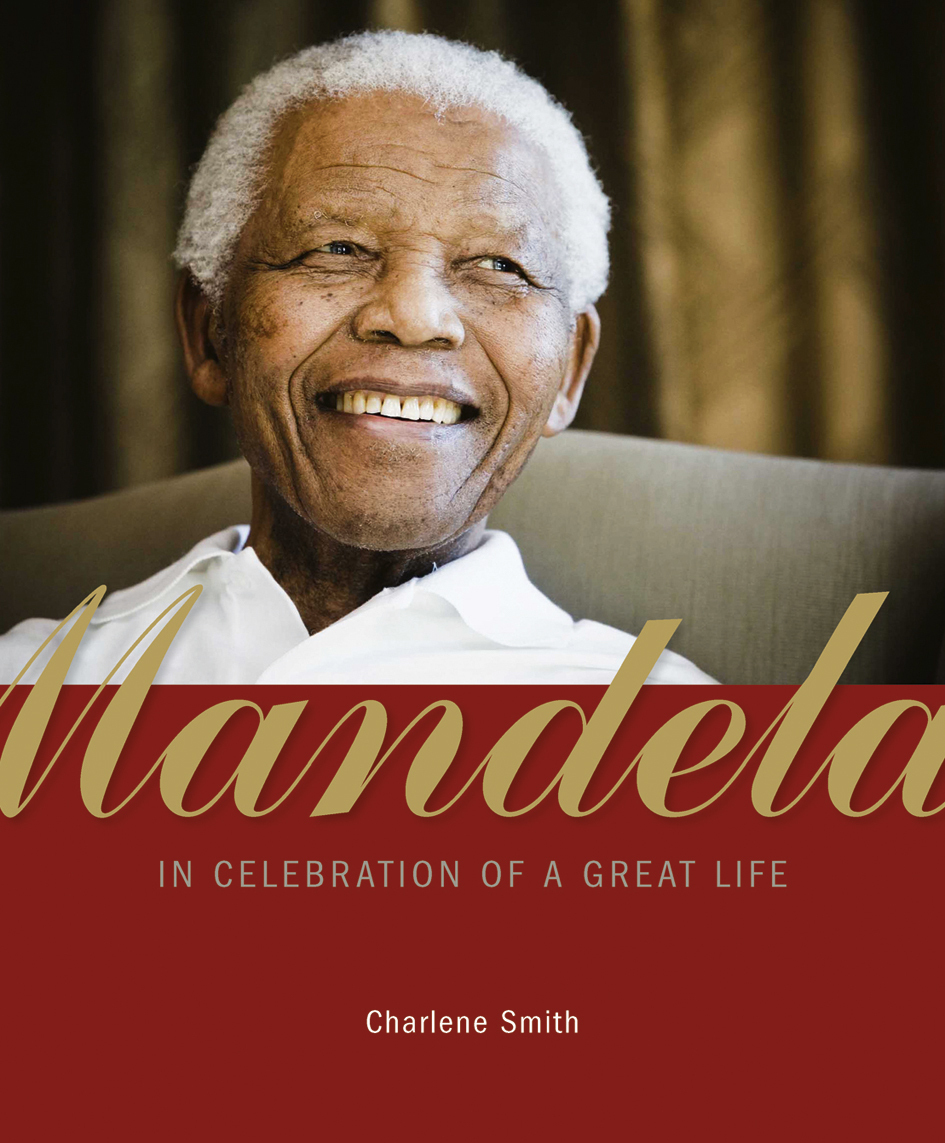 http://www.amazon.com/Mandela-In-Celebration-Great-Life/dp/1928213138/ref=dp_ob_title_bk
Talking about Nelson Mandela
Interview on Arise TV, Sunday, June 30 - start watching from 34 minutes into the show for a 13 minute interview in which I discuss Nelson Mandela and his legacy.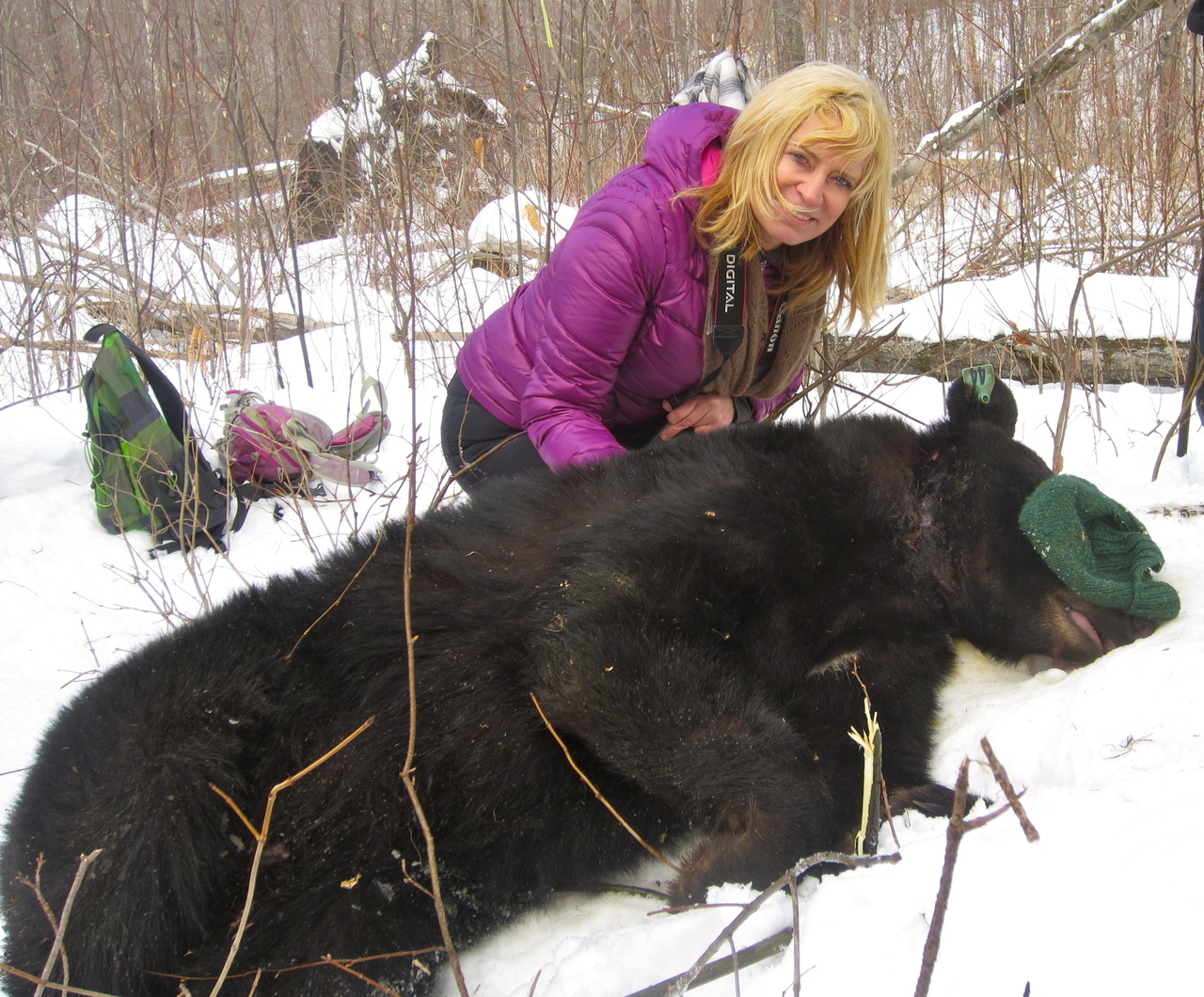 Don't Feed the Bears (see link below), The Boston Globe Magazine.

"We underestimate the ability of wild animals and humans to get along,' says New Hampshire environmentalist David L. Eastman. 'But getting along also requires humans to behave.'"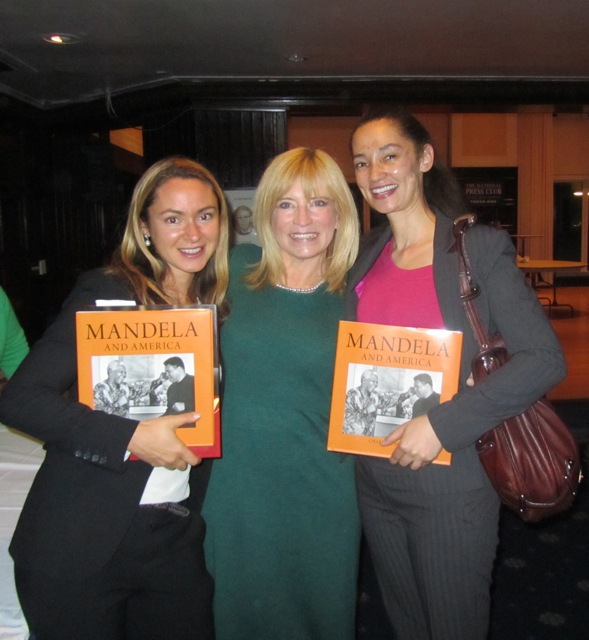 On November 26, Charlene Smith was invited to speak on the Life and Legacy of Nelson Mandela, at the National Press Club in Washington, DC. Some 350 guests arrived, and a book-signing took place afterward.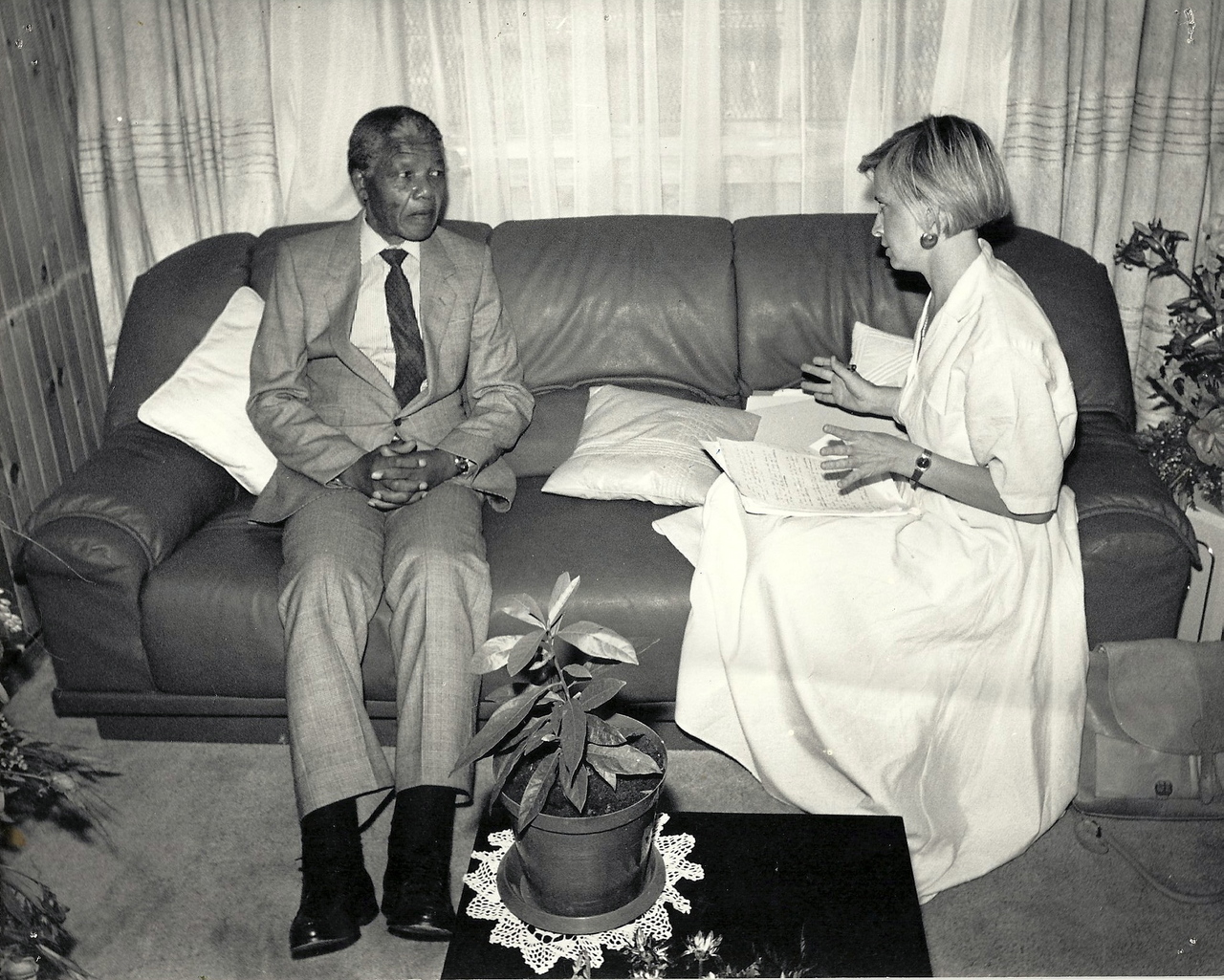 A referee wrote, "Charlene Smith is a powerful, highly skilled and experienced journalist, author and communications professional. She is adept at finding the right channels for messages. She has immense patience and love for people – no-one is unimportant or undeserving of her time or mentoring."
As a journalist, author, authorized biographer of Nelson Mandela, and ghostwriter, I have been privileged to witness the best in the great and had the time to ponder their flaws. I am struck by the fact that humility and a true love of people is the mark of greatness.
Journalists are the first writers of history and so our responsibility to truth-telling and fairness is eternal.
Born in Johannesburg, South Africa, I reported on anti-apartheid resistance and economics in South Africa. In Japan and Argentina, I reported on politics and economics. Publications I have worked for include the Los Angeles Times, Independent, Guardian, Washington Post, Le Monde, and others. As a television documentary maker I worked with Tony Burman at Canadian Broadcasting Corporation, Ted Koppel at ABC Nightline, and Ed Bradley and Anderson Cooper at CBS 60 Minutes, and others.